In mathematics, a numerical function is defined as a function with real values. Indeed, it associates to any possible value of its variables a result which is numerical. The term is used to designate a real function of a real variable, especially in secondary education. Moreover, it also covers the notions of functions of several variables or functions defined on topological spaces. This chapter is mandatory for students.
Such a function can represent the evolution of a quantity in time. It can also describe a quantity that depends on the measurement position in a space, such as temperature or pressure in meteorology. In addition, it can also model the influence of parameters on a result, such as the turnover of a company depending on the price of the products but also on the number of products sold.
The study of numerical functions considers several types of problems:
determination of the domain
the approximation of values
the search for a maximum or minimum
This chapter must be learned and understood. Indeed, it is very important for the student's progress. In addition, you will develop new skills and a new method of problem solving. Apply the properties learned to solve the exercises. Always stay focused during practice.
Exercises of mathematics in third (3ème ) on numerical functions.
A math exercise on functions that involves the following concepts:
– graphic reading of an image or antecedent;
– reading the representative curve of a function.
Exercise on functions :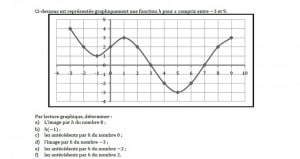 Cette publication est également disponible en :
Français (French)
العربية (Arabic)