Powers with corrected 4th grade math exercises are always a positive point. This course is exactly about power notation. It aims to lay the foundations of numerical calculation and to give a special case of it. You need to understand this chapter well to get a good grade on the test. In addition, this chapter allows you to develop new skills and solve problems differently. If you can do the exercises well, you will make great progress in Math.
In addition, the student will need to know the definition of a power as well as the different formulas (power of a power, inverse of a power, product and quotient of two powers). We will also solve many math problems similar to those in your textbook.
The correction of these exercises allows the student to evaluate his knowledge. We will end this chapter with the scientific writing of a number and many applications similar to those in your textbook.
Exercise #1:
Calculate, without a calculator, detailing all steps:

Exercise #2:
Write as a power of an integer :

Exercise #3:
Write with a power of 10.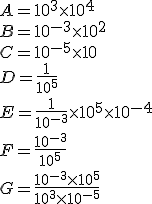 Exercise #4:
Calculate and give the scientific writing of the following numbers.





Cette publication est également disponible en :
Français (French)
العربية (Arabic)