In order to get a good start to your second year and to see if the knowledge acquired in previous years is understood, try to do some math exercises in 2nd grade and see what level you have. Even an average student can quickly progress with regular work. All work deserves a reward. There's no reason why you can't do it.
The second year math exercises can be downloaded online in PDF format or printed if you wish. In math, there is no magic formula. If the formulas are understood and learned, you will be able to set all types of exercises. It is up to you to think carefully when a problem arises.
Other corrected exercises in 2nd grade in the form of videos.

They can be a crucial step in a student's education, as they can help reinforce math knowledge gained in previous years and develop new problem-solving skills. These exercises can be a great way to improve computational skills, speed and accuracy in problem solving, and the ability to reason logically and methodically.
These documents can cover a wide variety of topics, from numbers and basic operations to equations and graphs. Students can work on practice exercises to reinforce their knowledge in these subjects, as well as use calculators and calculus software to solve more complex problems.
By working on these exercises, students can improve their ability to reason logically and solve problems methodically. This can be particularly useful for students preparing for important exams, such as the brevet or the baccalauréat.
In addition to practice exercises, students can also work on assignments and projects to reinforce their math skills. There are many online resources, such as workbooks or practice websites, that can help students work through math exercises at their own pace. This can be a great way to improve computational speed and accuracy, as well as the ability to solve problems in a logical and methodical manner. All these resources are in accordance with the official programs of theFrench National Education.
In sum, 2nd grade math exercises can help students strengthen their math knowledge and develop new problem-solving skills. By working on math exercises regularly, students can improve their speed and accuracy in calculating.
Succeed in math exercises in 2nd grade and progress throughout the school year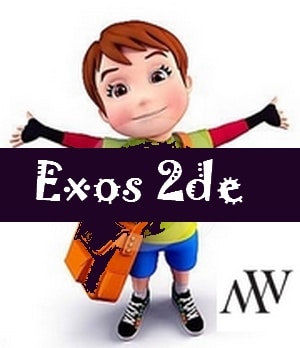 The second year of high school requires special attention because you are just out of high school and for you, high school is still a great adventure.
But why be good at math ? Math opens doors to many technical and computer science fields. The formulas are sometimes complex to decipher, but for a person who is good at math, this is not a problem. There are no bad students. The key is to understand what you are doing. Math is not only about formulas but also about logic.
The second year class allows you to take a step forward in the field of mathematics and offers different subjects from the old classes such as functions, statistics, triangles or even sign tables, algebra to work on functions. So many complexities that you must acquire during this year of second but essential for the continuation of your schooling.
You have a form to contact us if you have any questions. Join us on social networks and share your experience.
Cette publication est également disponible en :
Français (French)
العربية (Arabic)