Math tests from middle school (6ème, 5ème, 4ème et 3ème) to high school (2de, 1ère S et terminale S) to be done online in order to revise and prepare in the best conditions on the day of the supervised test as well as homework (DM).
All these tests are carefully written by a team of national education teachers and are available free of charge.
Proctored homework for students who want to prepare and review online as well as for teachers looking for material.
These topics can be a crucial step in a student's mathematics learning, as they can help assess the mathematical knowledge gained so far and identify areas that need reinforcement. Tests can also be a great way for students to practice their computation, problem-solving, and logical reasoning skills, and to prepare for important exams such as the brevet or baccalauréat.
Statements can cover a wide variety of topics, from basic numbers and operations to equations and graphs. Students may be assessed on their ability to use calculators and computational software to solve problems, as well as apply mathematical formulas and concepts to solve geometry problems.
These assignments can be a great way for students to develop their ability to reason logically and methodically. By working on checks regularly, students can improve their speed and accuracy in computation, as well as their ability to solve problems logically and methodically.
In addition to in-class tests, students can also work on additional math exercises to reinforce their skills. There are many online resources, such as workbooks or practice websites, that can help students work through math exercises at their own pace. This can be a great way to improve computational speed and accuracy, as well as the ability to solve problems in a logical and methodical manner.
In sum, math tests can help students assess their math knowledge and identify areas that need strengthening. Working regularly on math tests and exercises.
Access to numerous math tests and online homework assignments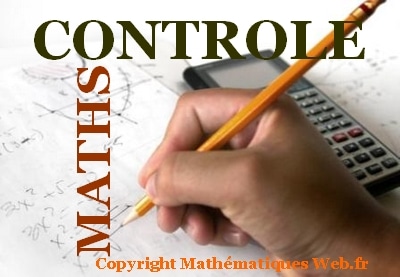 Develop your knowledge and consolidate your skills by completing the various math tests made available to you and written by a team of volunteer teachers.
The content is updated regularly and you will find, therefore, each month new resources and new topics developed by us. The subjects are in accordance with the contents of the officialnational education programs.
These are assessments that measure the mathematical knowledge and skills of a student or group of students. They can be used to assess a student's progress over the course of a quarter or school year, or to assess a student's math skills relative to an age group.
They can take many forms, such as homework assignments, written tests or exams. They can cover a wide range of topics, such as algebra, geometry, trigonometry, numbers and operations, statistics and probability.
How to prepare for a math test in high school?
It is important to prepare students for math tests by giving them the opportunity to practice the concepts and skills they need to master. This can be done by using math exercises and problems, discussing difficult concepts in class, and providing additional resources to help students understand key concepts. By working on math problems regularly and being exposed to new concepts consistently, students can develop their math skills and be better prepared for tests.
The goal of Mathematics Web is to help students progress throughout the school year by providing a database that supports this progress.
Cette publication est également disponible en :
Français (French)
العربية (Arabic)