Maths lessons on fractions in 6th grade to print or download for free in PDF.
As well as quotients and equalities. The student must master the definition and know how to place its abscissa on a graduated line as well as perform calculations of products of a number by a quotient or calculate proportions. Fractions are a primary concept, essentially, about comparing two numbers that would not be decimal numbers. Problem solving will also be a focus on this chapter in the sixth grade.
Many skills will be developed such as knowing how to graph a fraction of a figure or a quantity or knowing how to compare two quotients or to arrange them in an ascending or descending order.
I. Fractions and quotients
1. definition and vocabulary
Definition:
When a unit is divided into equal parts, each part is a fraction of the unit.
Example:
This rectangle represents the unit; it is divided into four equal parts.
Each part represents the fraction

.

i.e.

.
2. Placement and comparison on a graduated half-line
Example:
To place the number

on a graduated half-line, we transfer seven times the third of the unit

or we use

.
3. Quotient
II. Properties of fractions
1.equalities of simple fractions
Example 1:
We placed the number

on this graduated half-line.
We divide the unit into twice as many shares; we then take twice as many shares
and therefore

.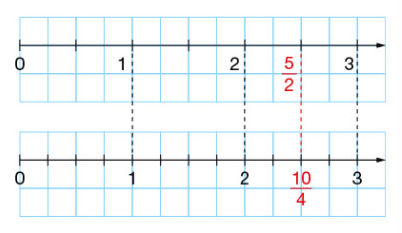 Example 2:
Here are different fractions equal to

.
2.comparison and graduated half line
Ownership:
To compare two fractions, we can use a graduated half-line or use their decimal writing (when it exists).
Example 1:
On this graduated half-line,

is closer to 0 than to

so

.
Example 2:
To compare

and

, you can do one of the following:

3. take a fraction of a quantity
Ownership:
To take a fraction of a quantity is to multiply that fraction by that quantity.
Examples:
Take of 15 L, it is calculated .
To take of 15 L is to calculate 2 times of 15 L , that is .
Did you get the hang of that fractions course?
Les fractions
QCM sur les fractions en 6ème.
Things to remember:
Skills to learn about fractions: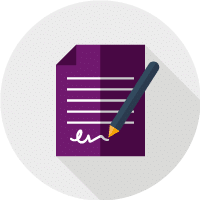 Know the definition;
Know how to compare fractions and place them on a graduated line;
Know the difference between a fraction, a decimal fraction and a fractional writing;
Calculate the fraction of a quantity;
Reduce to the same denominator.
This course is in accordance with the official programs of thenational education.
In addition, you can consult the exercises on fractions in sixth grade.
Cette publication est également disponible en :
Français (French)
العربية (Arabic)