Eighth grade math exercises in the fourth grade middle school curriculum. These exercises allow you to revise your math chapters in order to prepare for a test.
These exercises were written by a teacher of the national education. You will find on Mathematics Web a series of exercises on each chapter of the program.
Chapters on relative numbers, the Pythagorean theorem, fractions, the midline, the circumscribed circle, literal calculus.
These exercises can be viewed online or downloaded for free in PDF format.
Other corrected exercises in 4th grade in the form of videos.

Increase your results with the 4th grade math exercises corrected online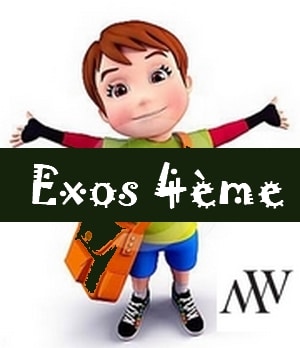 In order to progress, there is no miracle solution or magic formula, only regular work with math exercises in 4th grade containing increasing difficulties and an invested and motivated student will be able to envisage a constant progression in his work and his school results. Mathematics Web provides you with many free corrected exercises that you can download and print in PDF format.
Each exercise is corrected by a teacher of thenational education and will allow you to note your various errors in order not to commit them a second time.
This is a critical grade where you will develop your skills in literal and relative numbers and fraction calculations which are central chapters.
In sum, 4th grade math exercises can help students strengthen their math knowledge and develop new problem-solving skills.
Cette publication est également disponible en :
Français (French)
العربية (Arabic)