A math test on fractions in 4th grade is a way to understand the chapter more. As soon as the test begins, read all the questions to get a good, realistic idea of what to expect. Then, start with the questions that seem easier so you can save time. If you don't know what to do about a question, move on to the next one quickly. During your preliminary reading of the questions, you can immediately annotate the mathematical formula or concept that may help you throughout the test to easily solve the exercises.
If you have the option of using a note sheet, then write down the question number with the associated formula. Also, to pass your 4th grade math test on fractions, you need to get in the habit of rereading your lectures and also retaking the exercises. This will allow you to practice right before the day and be ready to get a good grade.
Use all the necessary materials allowed to facilitate the resolution. Read over your test carefully at the end before handing in your copy. This will allow you to spot errors and fix them quickly. This test can also be used by 4th grade math teachers and students.
Exercise n° 1 : (7 pts)
Calculate, then give the result as an irreducible fraction.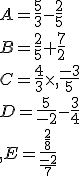 Exercise n° 2 : (3 pts)
Simplify the following fractions, then make them irreducible.


Exercise n° 3 : (7 pts)



Exercise n° 4 : (3 pts)
In a family of 5 people, each person drinks an average of

of liter of water per day.
They buy the water in boxes of 12 bottles of 1.5 L. A carton costs 6 euros.
What is the monthly water expenditure of this family? (30 days month)
Cette publication est également disponible en :
Français (French)
العربية (Arabic)