Math exercises for the 6th grade (sixième ) in addition to those given to you by your teacher. Some of these exercises have their answers.
You've just entered middle school and already the worries are creeping up on you in math class. Don't panic, even if it's not your favorite subject, there are still ways to retain and learn your lessons properly.
Other corrected exercises in 6th grade in the form of videos.

Sixth grade math drills can be a crucial step in a student's education, as they can help reinforce math knowledge gained in previous grades and develop new problem-solving skills. These exercises can be a great way to improve computational skills, speed and accuracy in problem solving, and the ability to reason logically and methodically.
How to progress with math exercises in 6th grade?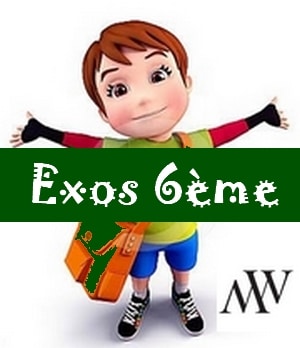 Math exercises for 6th grade are available on the website to download PDF solutions and practice at home in the evening or on weekends. The purpose of these exercises is to solve an unsolved problem.
No more elementary school, now you are in high school and the courses are still supported in mathematics with the program this year, parallel and perpendicular lines, decimal numbers, axial symmetry and many other chapters that await you with materials that comply with the programs of thenational education.
Stay confident because the first few months are never easy because the curriculum changes from elementary to middle school but you will quickly get used to it. Be sure to get help if you feel the need. The math exercises are accessible from the 6th grade to the 12th grade. Courage to you.
The great adventure begins for you in middle school. Learn the basics that will serve you well later in high school or for higher education.
Cette publication est également disponible en :
Français (French)
العربية (Arabic)