A math test on trigonometry in the right triangle in the third grade.
This trigonometry homework assignment is intended for teachers and students in ninth grade. Indeed, it is a chapter with several advantages and requires some regular practice to master it well. It uses all your skills and helps you solve problems with a simple and understandable method. You will also need to have all the appropriate materials to properly process this series of exercises.
Exercise 1: (5 pts)
In triangle ABC of height [AH] shown below, we give: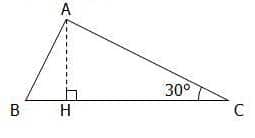 AC = 4 cm, AB = 2.5 cm and ACB = 30°.
1. Calculate the exact value of AH.
2. Calculate the measure of the angle

rounded to the nearest degree.
3. Deduce the measure of the angle

.

Exercise 2
(3 pts)
Calculate the following numbers and give the results rounded to the nearest 0.001:


E

xercise 3
(9 pts)
Consider the figure below: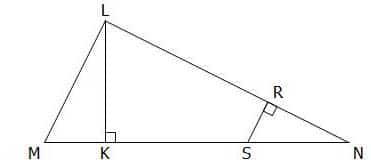 We give MN = 8 cm
ML = 4.8 cm
LN = 6.4 cm.
( We do not ask you to redo the figure on the copy )
1. Prove that the triangle LMN is right-angled.
2. Calculate the value, rounded to the nearest degree, of the measure of the angle

.
3. Let K be the foot of the height from L. Show that [LK] measures exactly 3.84 cm.
4. Let S be the point of [MN] such that NS = 2 cm. The perpendicular to (LN) passing through S intersects [LN] at R.
Will calculate exact value of RS.

Exercise 4
(3 pts)
Arthur wants to know the height of a tree.
He has a measuring device with the lens located at point A, 1.70 m above the ground.
This point A is 60 meters from the tree.
The floor is horizontal.
It measures the angle

. It finds 23°.
Calculate the height of this tree.
Cette publication est également disponible en :
Français (French)
العربية (Arabic)