This is it, you are in the last stage of middle school with many math exercises in the 9th grade and the year ends with the dreaded brevet des collèges. But everyone has to go through it in order to get to high school. And the mathematics gets even more difficult because the program is still evolving. The9th grade class is based on Thales' theorem, statistics, inequalities, geometry and many other subjects.
Other exercises corrected in 3rd grade in the form of videos.

Progress with math exercises in 3rd grade and review online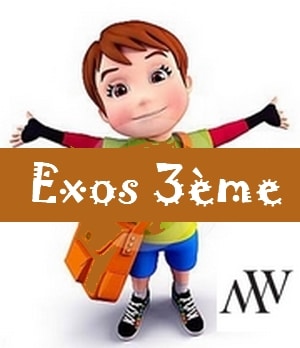 Some students have difficulty with lessons and sometimes it takes review and revision to understand the meaning of 3rd grade math exercises. In order to better retain an exercise, it is important to identify your shortcomings in order to better advance. If you have the possibility to work in a small group it is even better. The math exercises can be downloaded from the website.
The ninth grade is very important for the rest of your studies because it allows you to choose a direction. Even if math will not be part of your professional life, it is still important to know the basics in order to choose an academic path that suits your desires.
Mathematics can bring a strong sense of direction to your academic direction to get into certain graduate schools. That's why it's important to understand a minimum of their meaning. Understanding, analyzing and quantifying are complementary assets in a professional life and the basics are learned in college.
They can be a crucial step in a student's education, as they can help reinforce math knowledge gained in previous years and develop new problem-solving skills. These exercises can be a great way to improve computational skills, speed and accuracy in problem solving, and the ability to reason logically and methodically.
These resources can cover a wide variety of topics, from numbers and basic operations to equations and graphs. Students can work on practice exercises to reinforce their knowledge in these subjects, as well as use calculators and calculus software to solve more complex problems.
By working on these exercises, students can improve their ability to reason logically and solve problems methodically. This can be particularly useful for students preparing for important exams, such as the brevet or the baccalauréat.
In addition to practice exercises, students can also work on assignments and projects to reinforce their math skills. There are many online resources, such as workbooks or practice websites, that can help students work through math exercises at their own pace. This can be a great way to improve computational speed and accuracy, as well as the ability to solve problems in a logical and methodical manner. These cards are in accordance with the official programs of thenational education in third.
In sum, these materials can help students strengthen their mathematical knowledge and develop new problem-solving skills. By working on math exercises on a regular basis, students can improve their speed and accuracy in calculating, as well as their ability to reason.
Cette publication est également disponible en :
Français (French)
العربية (Arabic)