Eighth grade math tests to allow students in the fourth grade to prepare in the best conditions for a math assessment. All the official program of the national education is approached, the concepts like the famous theorem of Pythagoras, the relative numbers, the fractions or the translation and the powers are approached.
To give the student the possibility to fill in the gaps and to envisage a constant progression throughout the school year without having to call upon a private math teacher.
Free downloadable materials and assessments that have been given in class. Develop your skills and be ready for the big day.
How to get a good grade on your 8th grade math test?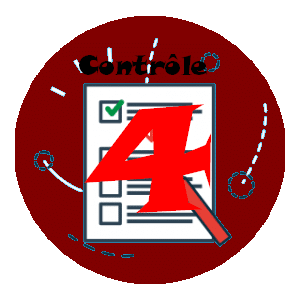 Mastering the content of the lesson (properties, definitions and theorems) is not a necessary and sufficient condition, it is necessary to practice on many different supports and in many different situations in order to be operational on the day of the test.
The goal is to develop one's skills and to develop a taste for doing mathematics. Be patient and train as much as possible as a sportsman would to develop his performance.
All subjects are in accordance with the officialnational education programs in the fourth grade.
Here are some tips that might help you pass your eighth grade math test on relative numbers, the Pythagorean theorem, powers, translation, rotation, average speed, and mean and median :
Make a summary of each concept: take the time to read and understand each chapter of the course, then make a summary of the main points to remember. This will help you better assimilate the information and remember it during the exam.
Practice: To master these concepts, it is important to practice them. Find math exercises online or in math books and do them. This will help you become familiar with the different types of problems you may encounter during your exam.
Ask a teacher or tutor for help: If you are having trouble with a particular concept, don't hesitate to ask a teacher or tutor for help. They will be able to explain things to you in a clear manner and give you tips to better understand the subject.
Make time to review: plan your review time accordingly and make sure you spend enough time on each concept. Review regularly rather than leaving everything for the last minute.
Keep a good attitude: Finally, it is important to stay positive and not to stress too much. If you've worked hard and done your best, you should feel confident in your ability to pass the exam.
Cette publication est également disponible en :
Français (French)
العربية (Arabic)